Prairieman Sprint
Grand Prairie, TX
Round 3-
500m swim
20.5 mile bike
5k run
The same sponsors from my triathlon in July sent me an email saying they were doing another one! The moment I read it I knew I was going to sign up. They put on a great show back in July and I definitely wanted to give it another shot. Funny thing, there was a cold front that came through that morning- the first and only so far! Other than a chilly exit from the lake and a windy bike ride, it was great! After talking to several people after the race, I'm glad I wasn't the only one who struggled with the windy bike ride.
My little station is all set up and ready to go!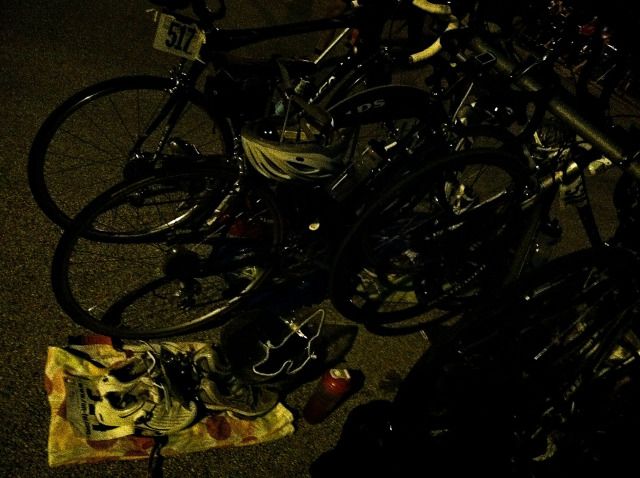 I really love doing triathlons. They are a lot of fun and you meet some amazing people along the way. It always surprises me that some of the very best triathletes are over 40. They are INSANE. I always leave feeling pumped like I'm ready to do another. Truth is, I don't train a lick for any of them. Training requires a lot of time and daylight that I just don't have right now. At least for the swim and bike part. I just jump in and have fun which means I don't get the best times.
However, one thing that I love doing is CrossFit. It equals my love for wrestling. And I can see myself doing it for the rest of my life. I RXed "Fran" for the first time a couple of weeks ago! It felt amazing! I didn't set any records, but I have been doing CrossFit for over a year so this is definitely a big deal for me. I didn't set a world record or anything, but it was a personal best. And I'm finally getting this whole "kipping pull-up" thing. For those who have no idea what I'm talking about go ahead and youtube it. It's pretty awesome stuff. But I'll have to save all this talk for a CrossFit post that is long overdue.
Point is- exercising has proven to be an outlet in my life that I absolutely treasure. It is the best medicine. It helps me be a better me. There really are no excuses, and that's what I like about it. You either do it or you don't.
I can't wait to run these with Rachel and Maggie one day. I'm going to give them a run for their money.
(And yes, this is the same thing I wore last time. Don't judge. haha!)