I figured I'd never get done with all the projects I've been working on... I won't even start about the dadgum sewing projects I've started, I swear that machine hates me... anyways, here are a few of the projects we've done...
Bow Holder- No more sifting through a basket to find the right bow! Believe it or not, I have an another bow hanger on the other door that my sister-in-law gave me...haha... Can you tell I like making bows? So what? :)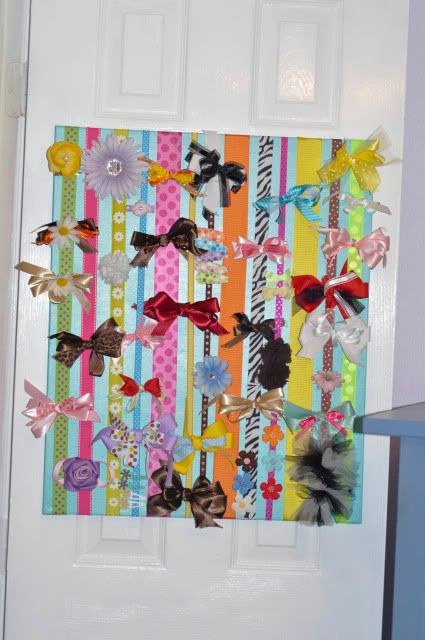 The unfinished guys...found that stool at a garage sale for one buck! He was pretty sad when I first saw him, but I think he cleaned up well. Still want to put the girls names on the steps..

Wall Bookshelves! love them! Only 5 bucks each to make!
My first experience with Mod Podge.. pretty nifty stuff. Cut out the A&M sign with a jigsaw and then used the Mod Podge to make the glitter stick. Also, made some wall plaques and then painted over the top with Mod Podge to make it canvas-like. I think they are pretty cool. I love the one in Rachel's room. Every time she wakes up she see's her Daddy. I like that.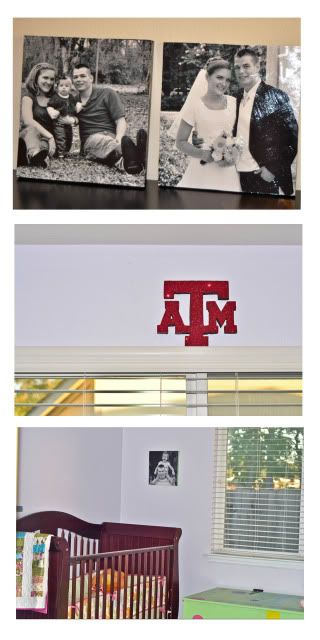 The baby room is definitely my favorite room in the house. Took forever for me to decide on the wall color! I just love to go sit in there and read with Rachel. The toy box that we built from last year is still my favorite. :)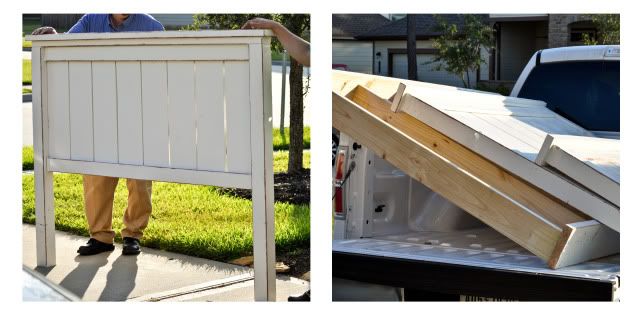 Unfortunately it wouldn't fit in our room! haha, after all that work! I'm so excited to get into our own place and set it up! This is what it looks like all together... I found plans for the wall bookshelves as well as the bed at http://ana-white.com/... her site is amazing and will totally inspire anybody to get to work in the garage!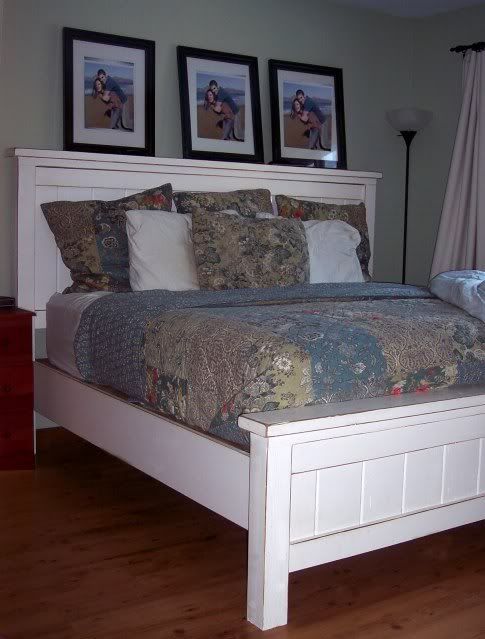 It has always been a dream of mine to make furniture for our home. I don't know why, I just love seeing things Tyler and I built together. I also love being able to paint it any color I want! I am so grateful that Tyler likes to build stuff too, or else I'd never get past hammering two pieces of wood together. What a guy! Seriously though, what man doesn't like an excuse to buy power tools? And a wife that encourages it? haha. Our projects don't always turn out the way we want. Sometimes we end up getting REALLY REALLY frustrated... but then a project turns out good.. and all the bad ones don't seem to matter anymore. :)