2013!?!
What,
what?
I'm super excited about a new start, a new beginning, new friends to make, and a new town! Everything is so NEW! I love it!!!
A look at my 2012- Only the good things of course...
-Completed my first triathlon- and did two more! Getting better each time!
-Did two mud runs. One tough mudder (13 miles) and one Rebel Race (9 miles).
-Rode in my first road bike race! 75 miles.
-Traveled across the country with my two little ones.
-Went to Disneyland and Seaworld!!! and played on beautiful San Diego beaches and toured the beautiful Colorado mountains! (next time I plan on hiking one of those suckers).
-Went on many a road trip with my girls visiting family and going on little adventures together.
-Went to CrossFit just about every single week day. RXed many workouts for the first time. PRed many exercises including deadlift
(275 lbs.! pretty proud of that one!)
, front and back squat, power clean, and clean and jerk. And now I can do kipping pull-ups! Whoo!
-Played and played and played with my girls.
-Sent Daddy heaps of love through care packages and lots of blog posts.
-Served at church as the Nursery leader. ;)
-Completed my first queen sized quilt!
-Did several photo sessions. Getting better and better at this photography thing. Still have a ways to go.
-We moved to Austin, Texas! Yeehaw!
-And I think the biggest achievement of all was all the little everyday things... trips to the park, zoo, and library. All the feeding, bathing, combing, brushing,and scripture powering... All the strapping kiddos in and out of the car. All the getting up and going. All the loving and singing to sleep... yep, that's the biggest accomplishment of all.
I don't know if that's all, but that's all I can think of at the moment. I wonder what new things will be conquered in 2013!
I'm pumped.
On New Years day I took out my tripod and decided I was going to take a family picture. I'm really no good at timed shot family photos. But here we go! I think they turned out hilarious and I wish I got the whole thing on video!
Getting things set up and Rachel decided to be my subject...
Of course she's in a bee costume, what do you think she'd be wearing? Normal clothes? Um, that's a negative. She changes her clothes about 10 times a day almost always resulting in a princess dress. This time she found her bee Halloween costume.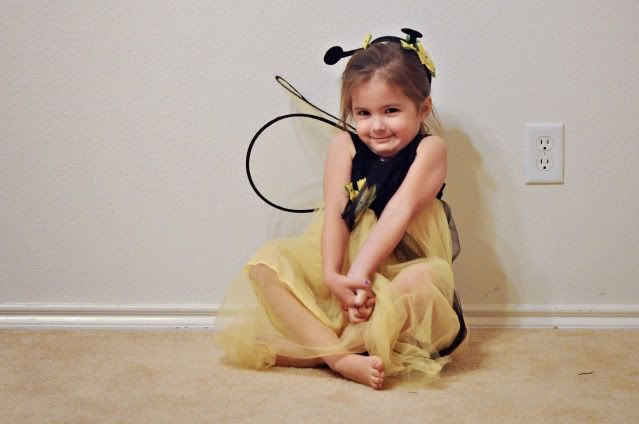 I really don't teach her these things...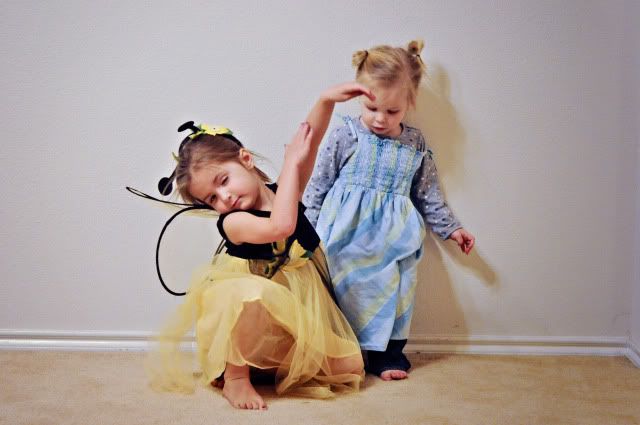 Maggie's smile kills me! bahahaha!
As you can see I didn't bother prettying anyone up for these photos. Everyone was as is. In this case Maggie found Rachel's favorite dress and put in on over her clothes.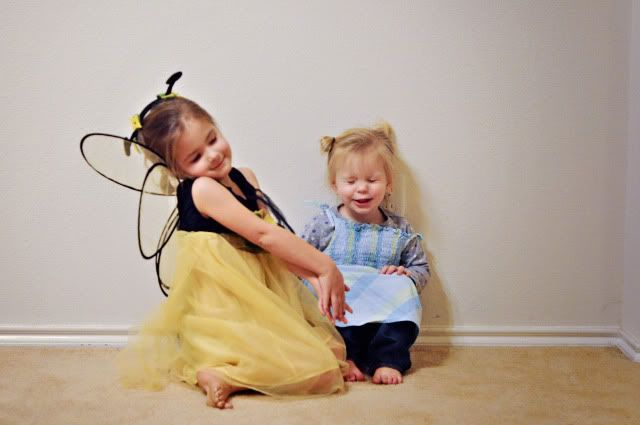 We are happy.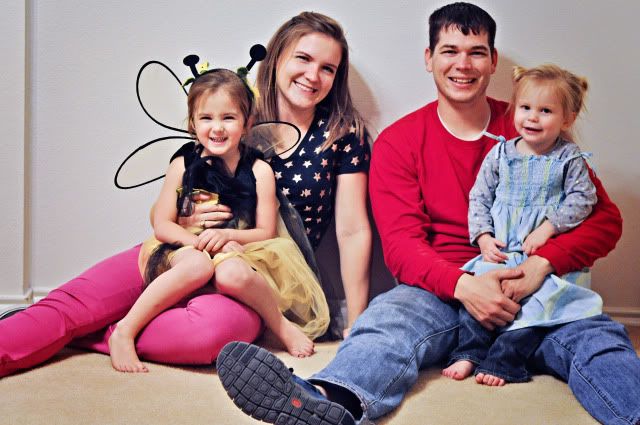 It was seriously the funniest thing ever! The girls would run up to the camera to see the last shot and I'd yell, "Now! Run!!!" and the next 10 seconds where insane. Running in circles, switching places, tickling, until I said, "Now! Smile!".
Hiliarious. We did it about 20 times. No joke. When I started sweating I decided we had better stop. haha!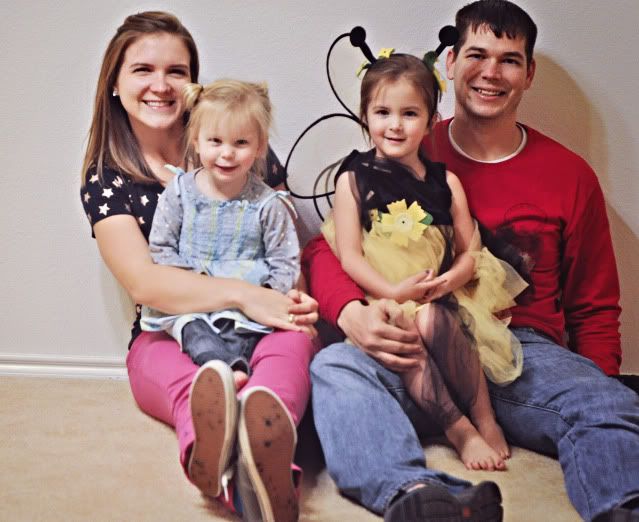 I was a baking fool on New Year's Day!
We had our famous red beans and rice for dinner! Yum yum yum. And I bought the girls fancy plastic glasses and we cheered to a new year with IBC Root Beer.
Because that's how we roll.
HAPPY NEW YEAR!!!!