I finally finished it! My Daddy wall has been on the back burner for some time. I was actually used to seeing a couple ledges with letters and frames stacked on top. It feels good to be done.
I dreamed this up before Tyler left. I thought maybe it would keep Daddy alive in those little minds. I love that they wake up and see him, go to bed and see him, and play in their room and see him. I figured even if they didn't notice, it would put my Mommy heart at ease. To my delight, they DO notice. All the time.
And I think it's pretty dang nifty! Not bad for my first gallery wall, wouldn't ya say?
Maggie will say "Da-Da" when she looks at it, and Miss Rachel notices it all--- what kind of hat Daddy is wearing, the stars on the letter D, the swing, the fountain- she loves it. I think so anyway.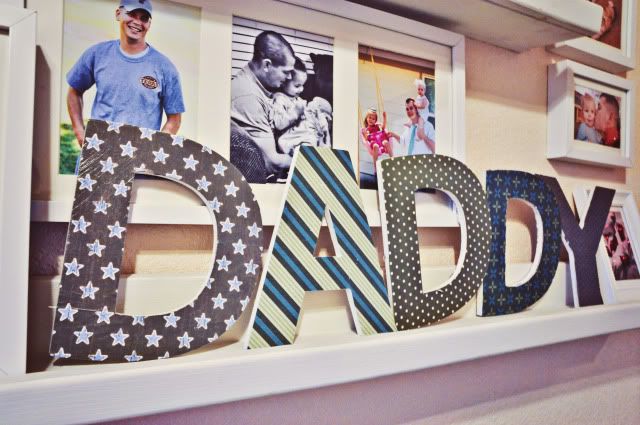 Little things count. It's amazing just how much they count. I'm glad I finished it.
We love our Daddy.
side script from today:
Mommy: "That's MY Daddy!!!"
Rachel: "MINE Daddy!"
Mommy: "No, he's mine."
Rachel: "No, that's MINE Daddy!"
Mommy: "Nope, I found him first."
Rachel: "Daddy is MINE."
Mommy: "No, he's mine."
Rachel: "MINE!"
(I think you get the drift.)
...
...
Mommy: "Okay, you're right. He is your Daddy. But he's my sweetheart." hehe.
Got her there!
Yep, we're already fighting over him.