About a year and a half ago I found the pioneer woman website. I initially looked at her website hoping to find some new recipes. Let me just tell you, the pioneer woman can COOK! seriously tasty stuff. Anyway, I found myself scrolling around her site and eventually clicked on the photography link. Boy oh boy, I was in love. I clicked on everything! And I'm pretty sure that I read her "What the heck is Aperture" about 50 times. Good stuff!
After playing around with my point and shoot camera for several months, one day a big box came to our door. It said NIKON.
*my heart skipped a beat*
This was it. He had done it. The box was far too big to be anything other than a brand spanking new DSLR camera. I hurried and put it in the back seat and drove off to campus where I knew Tyler would be getting out of class soon. Then, I saw him... Mr. Payne walking up to the car with the widest grin on his face! He knew he had done good.
I jumped out of the car and gave him a monstrous hug, followed by a slug on the shoulder (these puppies are expensive! even though I knew he had been scheming for a while), and then another big hug and kiss. I love that man.
Since then I've been a work in progress. There was a lesson I learned in high school about making choices... Many girls played softball year round. They played on fancy club teams and basically drake, ate, and slept the sport... hoping to get a scholarship senior year. But I loved volleyball, softball, and wrestling! I may not get a scholarship, but I want to enjoy and participate in everything that I love. I feel the same way about photography. I'd love to put all my spare time into it, but there are so many other things that are important to me. So, little by little I learn more and more about photography. Sometimes I get really frustrated and feel like my photos just aren't turning out right and I don't know why! There are about a million buttons on this dang contraption, why can't it just do what I I want? goodness gracious.
Today I took a picture from a month ago and decided that I was going to make it better. And I think I did! This shoot was almost completely SOOC... I think I may have boosted it a bit...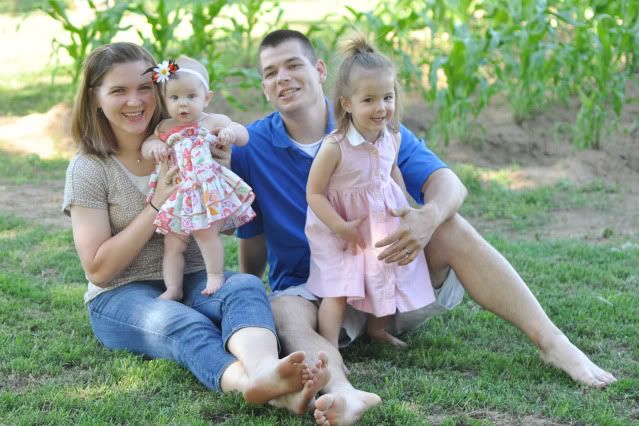 And here it is after the tootling... much better right? crisp and bright don't ya think? I took this photo around 5pm in the Texas summer which isn't ideal lighting... the sun is a bit harsh and the light is uneven, but I still think it looks pretty good. One more thing, my goal is to hardly have to touch it after I put it on the computer. I think that's the sign of a good photographer. However, I think that there are some photoshop actions out there that are just right, and add the pizazz I'm looking for.

Maybe there is hope for me!