Two Rangers tickets arrived in the mail last week. I wonder who they were for? You guessed it, ME! I had put the bug in Tyler's ear that I really wanted to go to a game, and he did it! I was so excited. If someone asked me what my idea of a perfect date would be, it wouldn't be going to the movies or walking along the beach, it would definitely be this. I love going to baseball games. I remember going to several Astros games growing up. We always got the cheap "nosebleed" section seats, but my brother and I always brought our gloves anyway hoping we would catch a foul ball. Those were some good times.
This was a good time too. There's something about the atmosphere of the ballpark. It's just FUN!
A racoon on the Interstate! hahaha! I couldn't stop laughing when I saw this. I grabbed the camera and started shooting. Gotta love rush hour!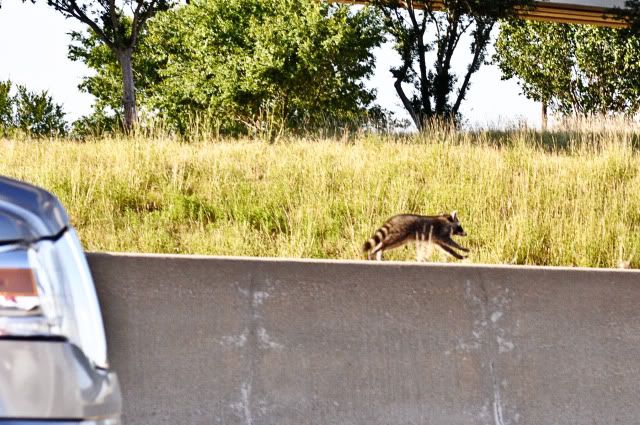 I've always loved this ballpark. Isn't it pretty?
Buy me some peanut's and crackerjacks, I don't care if I ever get back..."