A while ago I decided to give Rachel a lesson on saving her money. I love giving little lessons, and watching the wheels turn in that toddler brain of hers. I handed her a dime and told her it was money and that when we get money we save it in our piggy banks. That was pretty much it. I didn't go into tithing or why we don't just spend it... It was simple, we put our money in our piggy banks until we need it. I figured that was enough of a lesson for now.
Since then every piece of loose change lying around the house becomes the property of Rachel's piggy bank. Oh the excitement from finding a penny! Not only that, but occasionally I will find her looking through my purse (good luck there honey), grandma's purse, and daddy's wallet for money. She has acquired
quite the loot. $9.52 total.
Once she finds some change, I hear "money! put in the piggy!" and there we go to the piggy...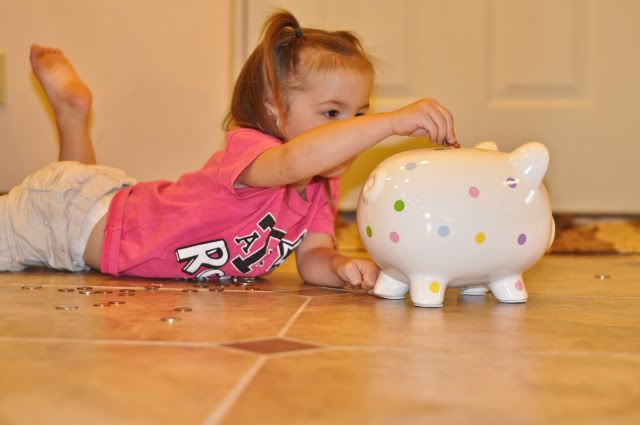 Lesson learned. Now for the lesson on lying, cheating, and stealing.