Meet my Great Grandma, Ruby.
She is 99 years old. Isn't she beautiful? I hope I age this beautifully.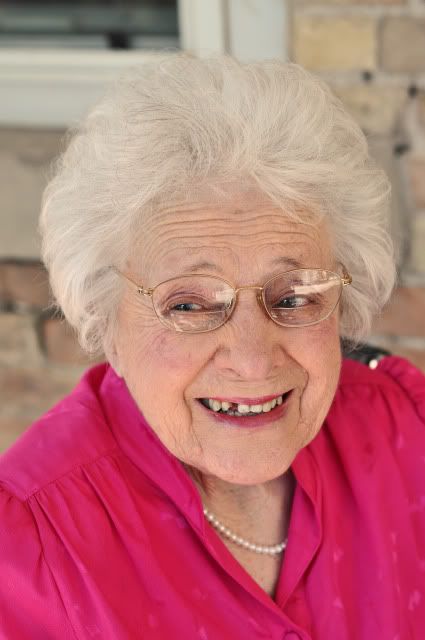 Grandma Kelly is the only Great Grandparent I was ever able to get to know. I remember playing cards and baking cookies with her when she came to Houston to visit her daughter (my grandma), Rosalind. Best batch of cookies I've ever made, and I make lots of cookies. I seriously remember that, I would keep eating them looking at the recipe thinking, "What did we do differently? How did these turn out so much better than normal?"
I think I finally figured it out. Everything Great Grandma touches turns to gold. Even a batch of cookies. It's so hard to explain in words. It's more than just someone you want to be like. It's someone you want to be around. A magnet, that draws you in. It's someone that makes you a better person just by meeting them. I always felt like she really looked at me when I spoke, and although I hardly ever spent time with her growing up, I know she loves me. There's no doubting it. She is one of my heroes. If I ever have a July girl, I'd love to name her Ruby.
5 Generation Picture. Rachel and Maggie are her only two great-great grandchildren! For now that is.
She even attended my wedding. I can't even tell you how much this meant to me. It brings tears my eyes even now. Thank You Grandma, I know it was a long trip.
After writing my "Just the Two of Us" post, it hit me. I decided that every month I will be doing a family history post or as I'll be calling them,

"Where I Come From"

posts. I am VERY excited about this. I want my children to not only see their history, but read and see the history of their parents, grandparents, and great grandparents. This just makes me GIDDY! Because if there's anything in this world that lifts me up and keeps me fighting, it's my family.
It's Where I Come From.
Since unfortunately I don't know much about my Great Grandma other than that she was one heck of a tough Missouri farm-girl, I asked my Grandma to write a little bit about Great Grandma for me... here's what she wrote:
Ruby Jewell (Cornelison) Kelly was born in Webster County, Missouri, on July 11,1912. She was 1 of 19 children born to Davner Jackson and Florence (Bralley) Cornelison. Ruby married Louis Arthur Kelly in 1934. They had 7 children:Roger, of Key west, Florida;Rosalind Loretta Barrow of Sugar Land,Texas; Linda Metcalf of cedar Fort, Utah; Martin of Wellington,Utah; Ann McAvoy of Lehi, Utah;Stephen of Fillmore, Utah; and Larry Kelly,deceased, who lived in Washington, state, I think.
After a very busy and varied life of work, adventure, and raising their family, Louis and Ruby served a mission in England in 1978 and 1979. after 58 years of marriage, Louis passed away in Springfield, Missouri on July 22.1992. Ruby is still leading an active life and loves to garden. She is very proud of all her children 6 now, and grandchildren and 74 great grandchildren, and 2 great-great-grandchildren. She often receives visits from her children and grandchildren, which brightens her life.
My inspiration for this "Where I Come From" post came from a few recent outings Rachel and Maggie had with their Great Grandparents...
Grandma and Grandpa Barrow had lunch with us at the park. Rachel had a chocolate milk meltdown... haha, this picture makes me laugh so hard!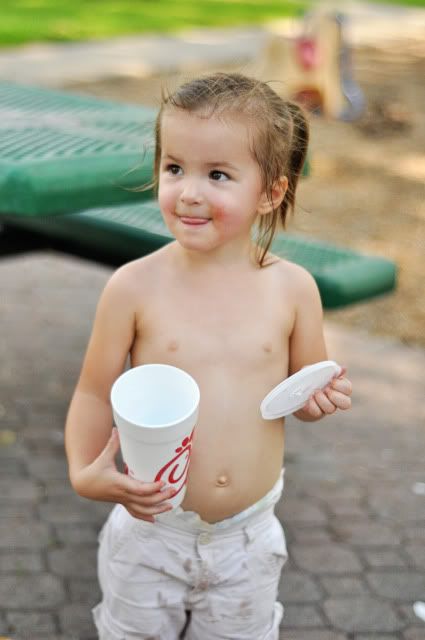 Me and my Grandma and Grandpa Barrow. I love you guys so much! Thanks for the outing. We had a great time! As always. And if your wondering where that six pack of IBC root beer from your fridge went... It was TYLER! haha... okay okay, It was me. ;)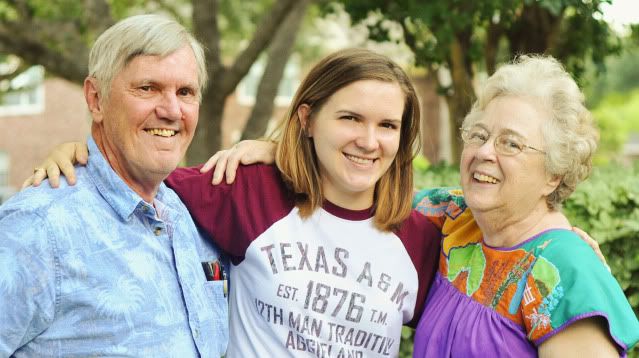 Next outing was with Nana-Nana! Where did we go? You guessed it, the park! haha. Can never go wrong with the park. Here's our little gold-digger Maggie. Sheesh, I opened my wallet this morning and I'm missing my debit card. -true story.