A few years ago I made a promise to myself that I would read the Book of Mormon before the year was through. Christmas had just ended, and I was only just starting Alma. It was a quiet time, a time of year that I just love. The enchantment of Christmas still hung in the air, but the panic and scheduling was over. And the excitement of a new beginning, a semester was growing.
So I did it. I don't know what came over me, but I did it. I am not one to read things fast, at least not read them and understand at the same time. It was the first time in my life were I got completely lost in the scriptures. Don't get me wrong, I loved reading them prior to this experience, but this was different. This was something special.
And well there was a certain scripture that pierced me. When I read it my whole body got warm and I couldn't stop the tears from rolling down my cheeks. The scripture was about lilies. 3rd Nephi 25-34.
When I read it, I knew it would bring me comfort multiple times in my life. And it has. Particularly in recent months. There have been many moments were I've felt like I was unequal to the task placed before me. Simple things even... like how to calm Rachel down, when I can't even seem to calm myself down... to not so simple things... like how is this ever going to work out? And when I get to these points, and pray to Heavenly Father for help, I get this small, tiny, minuscule, can barely make it out feeling that says, "I'm taking care of you".
Then I simply hold on for dear life.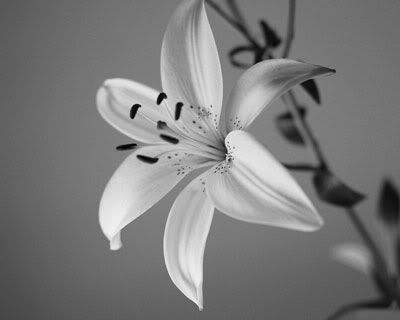 "Therefore take no thought, saying, What shall we eat? or, What shall we drink? or, Wherewithal shall we be clothed?
For your heavenly Father knoweth that ye have need of all these things."